Website Case Study
Excel Time Services - ,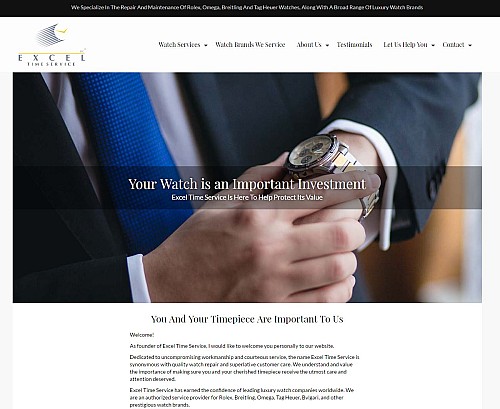 $$ 2016
Florida Based Watch Repair Company Gets New Website
Excel Time Services first approached Sullivan+Wolf Design to repair a contact form. Not uncommon as we often are called on to fix sites made by other design teams.
Excel's clientele are affluent and demanding, and worldwide, and thus we needed to provide a website on budget that has a look of a high-end service company to which Excel Time Services is. One difficult challenge was finding stock photography that was suitable. Sullivan+Wolf Design, along with Excel's founder and president searched many images to find the right ones for the topics being deiscussed. Future on-site photography is planned.
We are currently working to improve social media coverage, and will be adding in our article system (CMS).
View The Excel Time Services Web Site